Enjoy a Chocolate Buffet in Cape May, New Jersey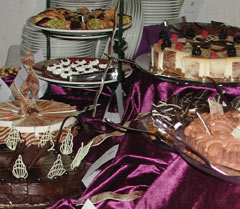 The Mid-Atlantic Center for the Arts is holding a scrumptious Chocolate Fantasy Buffet at the Washington Inn, located at 801 Washington Street in Cape May, NJ on Saturday, February 21st at 1:00 p.m.  This will definitely be a chocolate lover's delight, especially since Chef Kathleen Cressman-Pastiu will be divulging her chocolate secrets. 
I recently enjoyed a Chocolate Buffet on a cruise to Bermuda and it was absolutely delightful.  I am really looking forward to the Chocolate Fantasy Buffet, which is sure to be a tasty hit that everyone can enjoy.  Admission is $35.00 and for additional information you can call 1-800-275-4278.
Leave a Reply
You must be logged in to post a comment.